Zoll AED Plus Replacement Batteries
Contains a quantity of ten (10) Type 123 Duracell Lithium Batteries with storage sleeve.
Anticipated Life of the Zoll 123 Duracell Batteries is 5 years in normal standby mode.
Expiration Date (How to determine your expiration date?)
*The Zoll battery 8000-0807-01 does not display an "Expiration Date" on the battery but instead displays an "Install Before" date.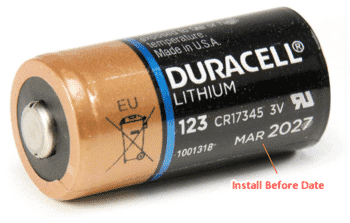 New Battery Installation Button
Please note: When you install the new batteries in your AED you must press the button in the battery compartment when the AED directs you to do so. Failure to press the button will result in a failure of the AED to recognize the new batteries.
Date Battery Installed
It is very important to record the date you install your Philips batteries into your AED for service. When the batteries are installed in the device you have approximately 5 years from that date until the batteries expire. *Our free AED management software will make managing expiration dates in one or any number of AEDs you own, simple and easy.
Shelf Life
The "Install Before" date represents the Shelf Life of the battery (new and uninstalled in an AED). For example, if the "Install Before" date was 2018-05 you could store the battery and safely insert in your AED to start your 5-year use of the battery anytime until 2023-05.