Philips Heartstart FR2 electrodes
As of December 31, 2018, Philips will not be manufacturing any accessories for the Philips FR2 AEDs, and the units will be considered "end of life" by Philips.
For AED units FR/FR2/FR2+
The Philips Heartstart FR2 electrodes 989803158211 are suitable for use on adult persons. These electrodes can not be pre-connected. Always keep them in the vacuum packaging on the defibrillator. The correct placement is indicated both on the packaging and on the electrodes themselves.
Technical details of the electrodes:
not pre-connectable

self-adhesive

1.5 - 2 years

latex-free

Length of the electrode cable: 137.1 cm

Storage temperature between 0 ° C and 50 ° C

Pacemaker recognition
Expiration Date
The 989803158211 FR2 pads have an expiration date printed on the packaging.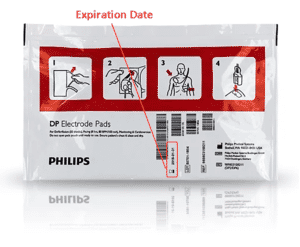 Brand: Philips

Electrode Pads Life: 2 Years