Philips Heartstart FR2 electrodes
For AED units FR/FR2/FR2+
The Philips Heartstart FR2 electrodes 989803158211 are suitable for use on adult persons. These electrodes can not be pre-connected. Always keep them in the vacuum packaging on the defibrillator. The correct placement is indicated both on the packaging and on the electrodes themselves.
Technical details of the electrodes:
not pre-connectable

self-adhesive

1.5 - 2 years

latex-free

Length of the electrode cable: 137.1 cm

Storage temperature between 0 ° C and 50 ° C

Pacemaker recognition
Expiration Date
The 989803158211 FR2 pads have an expiration date printed on the packaging.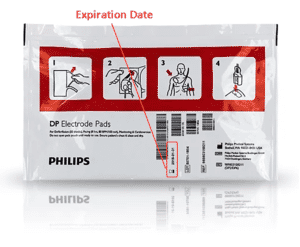 Brand: Philips

Electrode Pads Life: 2 Years