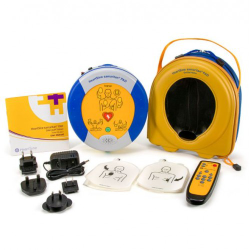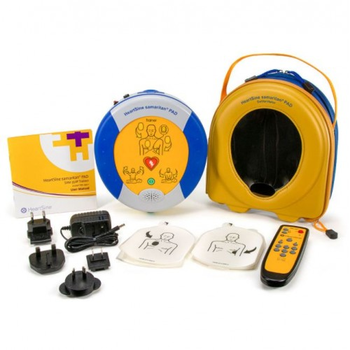 HeartSine Samaritan PAD 450P Trainer with Remote Control
$449.00 USD
Product Code: TRN-450-US
ADD TO CART
HeartSine Samaritan PAD 450P Trainer with Remote Control
The HeartSine Samaritan 450P PAD Training System with Remote Control is a non-shocking training device used to train students in the use of the Heartsine Samaritan 450P PAD AED. The 450P Trainer simulates the sound and tone of the AED and uses a CPR Rate Advisor prompt to encourage compressions.
The battery can last up to 7 hours on a full charge. The battery charger is included. LEDs on the charging cable or power brick indicate the charging status of whether the device is inactive or active.
New training pads are now compatible with all types of manikins and take less effort to place on. The best time savers are the cable rewind mechanism; it preserves precious minutes when resetting your system.
This product comes with six preloaded scenarios in 29 different languages. The included remote control allows the instructor to monitor and provide feedback on CPR compression speed, "Push Faster", "Push Slower", or "Good Speed".If a student has to be prompted by the trainer each time to start CPR, they can use the remote.
The 450P Trainer Package includes the following:
HeartSine samaritan PAD Training Unit
Carry Case for Training Unit
3 Pairs Training Electrode Pads
User Manual
Trainer Power Supply/Charger
Remote Control (2 "AAA" batteries included)
HeartSine samaritan PAD Trainer Pads w/Cable Rewind
Alternate Part Number(s): TRN-450-US, TRN-450-1, 11516-000092