Active Coupon Code:





$125offAED




Enjoy $125 OFF - While Supplies Last

Copy the flashing code above, including the $ symbol.
---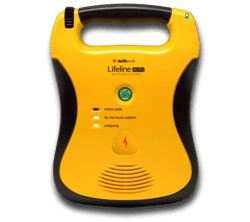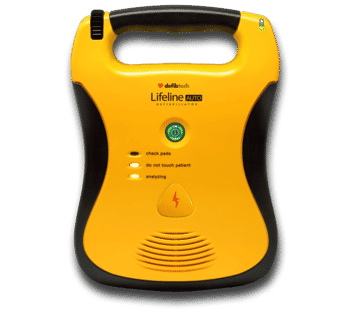 Defibtech Lifeline AED Fully Automatic
$1480.00 USD
Product Code: DCF-A120
ADD TO CART
Lifeline AED
The original Defibtech AED includes all mission-critical features necessary to provide the most advanced treatment for Sudden Cardiac Arrest. It is so simple and unintimidating to use that even non-medical personnel can effectively save lives.
Simple to Operate
Simple, clear, and intuitive.
Clear Voice Prompts
Saving lives, while rewarding, can be stressful. A calm voice leads the user through the rescue, clearly and concisely stating each instruction, one step at a time. Brightly lit progress lights provide clear visual text guidance to reinforce voice instructions.
Long Battery Life
Two long-life batteries are available: a 5-year battery that will deliver 125 shocks or work continuously for 8 hours or a 7-year battery, unique in the industry, which will deliver 300 shocks or work continuously for 16 hours.
Durable & Rugged
Extremely durable; manufactured to withstand dust and water ingress; tested to military standards for shock and vibration; jet aircraft and helicopter tested.
Safe & Effective
The Lifeline AED uses biphasic technology, a clinically proven waveform and algorithm to deliver shocks and save lives. This is one of the most widely used impedance-compensated waveforms which has extensive clinical experience and success in thousands of defibrillators around the world. Evaluation in hundreds of publications has demonstrated this technology to be the safest and most effective when it comes to saving lives.
Brand: Defibtech

Prompt Type: Voice + LED

Operation Mode: Fully Automatic

Warranty: 8 Years

Water/Dust Resistance (IP Rating): IP54

Electrode Pads Life: 2 Years

Shock Energy: 150 Constant

Text Prompt: No

Voice Prompt: Yes

LED Prompt: Yes

ECG Display: No

Pediatric Capability: Yes

Converts To Trainer: No

Dual Language: No

CPR Coaching: Passive

GTIN: 630125226094