Intellisense® Battery for Powerheart® G5 AED
Cardiac Science G5 AED Battery: Optimized for endurance and reliability. Powering critical interventions, ensuring your AED is always rescue-ready.
A single Intellisense battery is all that is needed to power your Powerheart G5 AED. This dependable, medical-grade battery is tested rigorously at Cardiac Science and then tested each day it is installed in your Powerheart G5 AED for presence and functionality to ensure readiness. Using patented Rescue Ready® technology and embedded circuitry, your Intellisense battery communicates performance condition, age, storage temperature, and other vital information directly to your Powerheart G5. Once Intellisense™ supplies are installed in your Powerheart G5 AED, years of unmatched performance are delivered.
Cardiac Science At the Heart of Saving Lives ™
Cardiac Science designs, manufactures, and markets Powerheart® automated external defibrillators (AEDs) and related products.
How to determine your expiration date?
Knowing when to change your G5 battery can be a little confusing. The Cardiac Science Powerheart G5 battery XBTAED001A does not display an "Expiration Date" on the battery but instead displays a "Manufactured on Date".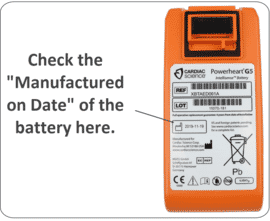 The date Battery is Installed
It is very important to record the date you install the G5 battery into your AED for service. When the battery is installed in the device you have 4 years from that date until the battery expires. *Our free AED management software will make managing one or any number of AEDs you own, simple and easy.
Shelf Life
The battery has a 5-year shelf life (New and Uninstalled) calculated from the "Manufactured on Date". For example, if the "Manufactured on Date" was 2018-05 you could store the battery and safely insert it in your AED to start your 4-year use of the battery anytime until 2023-05.
Brand: Cardiac Science

GTIN: 00812394020904