FLASH SALE $50 OFF
Use Coupon Code $50offAED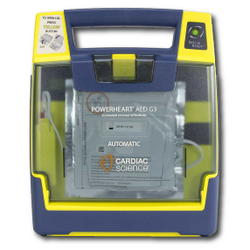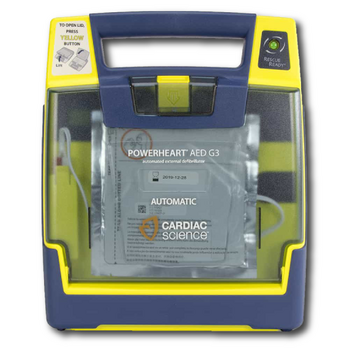 Powerheart G3 Fully Automatic
$1415.00 USD
Product Code: 9390A-1001P
OUT OF STOCK
This Product was Discontinued by Cardiac Science
The Powerheart® G3 Plus AED is the flagship Cardiac Science automated external defibrillator (AED) that features Rescue Ready®, RescueCoach™, and STAR® biphasic technology to make your rescue as simple as possible.
Available in automatic and semi-automatic models, this AED is ideal for lay rescuers to use in public access defibrillation areas such as schools, athletic fields, and workplace environments.
Readiness Technology
Cardiac Science Rescue Ready® technology self-checks all main AED components (hardware, software, battery, and pads) daily. The AED completes a partial charge of the high-voltage electronics weekly and a full charge monthly.
Advanced Technology
Rescue Coach™ and CPR metronome functionality pace users through chest compressions. In addition, our proprietary STAR® biphasic technology calculates electrical impedance and escalates the energy to deliver therapy at an appropriate higher level should a patient require a second shock.
Assurance
Cardiac Science stands behind our Powerheart AED G3 Plus with a 7-year warranty, among the longest in the industry, and a 4-year full battery operational replacement guarantee.
Brand: Cardiac Science

Operation Mode: Fully Automatic

Prompt Type: Voice + LED

Warranty: 7 Years

Water/Dust Resistance (IP Rating): IP24

Electrode Pads Life: 2 Years

Shock Energy: 150-360 Variable

Text Prompt: Yes

Voice Prompt: Yes

LED Prompt: No

ECG Display: No

Pediatric Capability: Yes

Converts To Trainer: No

Dual Language: No

CPR Coaching: Passive

GTIN: 00812394021086